Dorothea Viehmann
was born as Katharina Dorothea Pierson at the Knallhütte near Kassel as the daughter of the tavern owner. Her paternal ancestors were persecuted Huguenots who fled from France to Hesse-Kassel after the Edict of Nantes was revoked. As she grew up, Viehmann picked up numerous stories, legends and fairy tales from the guests of her father's tavern. […] She became acquainted with the
Brothers Grimm
in 1813 and told them more than forty tales and variations. [
More …
]
Some
remarks
about the "Märchenstunde", i.e. a performance of fairy tales.
The
contemporary menu
of the tavern.
Some
Museums at Kassel
GRIMMWELT
Gemäldegalerie
Orangerie

GRIMMWELT
With regard to the history of the brothers Grimm there is a
new museum at Kassel
: the
GRIMMWELT
.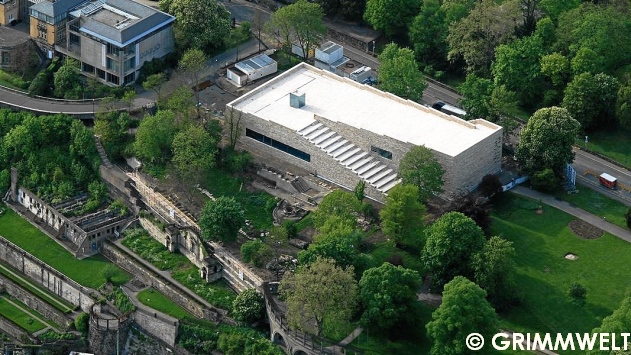 On the left upper corner of this picture you can see an other outstanding museum:
Museum für Sepulkralkultur
(
Museum for sepulchral culture
).
Practically everybody has heard of the Brothers Grimm and connects them with memories going back far into childhood. With their collection of Children's and Household Tales, Jacob and Wilhelm Grimm have made their mark on many generations. But that is not the full extent of their merits by far. They were important linguists and are considered to be the founders of German language studies. They belonged to the Göttingen Seven, and in 1848 Jacob Grimm was a member of the National Assembly at St. Paul's Church in Frankfurt. [
More …
] The GRIMM WORLD Kassel will pay worthy tribute to all these aspects.
The first edition of the
Children's and Household Tales
(1812 / 1815) with the original marginal notes of the brothers Grimm became a part of the
UNESCO World Heritage
in 2005. You may look at these books in the GRIMMWELT.
The
Guardian
declared the GRIMMWELT as one of the ten best new museums of the world which were opened in 2015.
Schloss Wilhelmshöhe
Palace Wilhelmshöhe
originated as part of the superordinate artwork Bergpark Wilhelmshöhe in 1786 over several construction phases. While the Baroque park grounds were redesigned as an English landscape garden, Landgrave Wilhelm IX, later Prince Elector Wilhelm I (reign 1785–1821), planned the palace project. [
More ...
]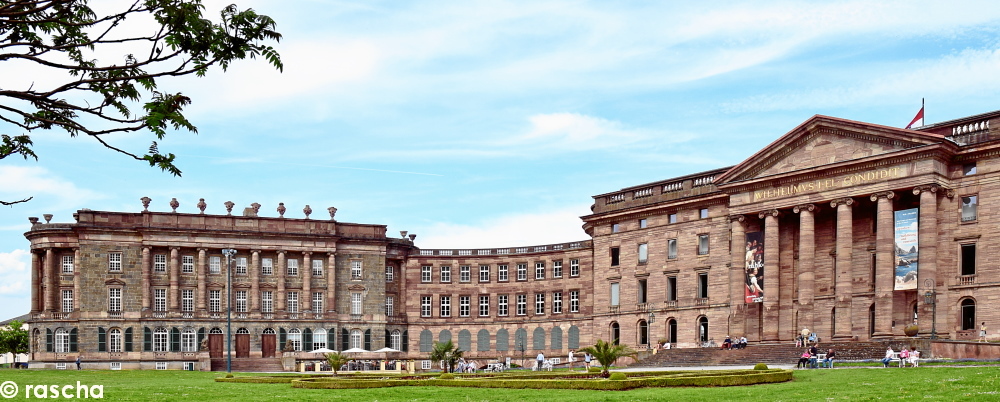 Museum Palace Wilhelmshöhe
Old Masters Picture Gallery
The collection contains more than 1,200 paintings (about 450 are presented for visitors) and features European paintings of the Late Gothic, Renaissance, the Baroque and Classic with a special focus on Dutch and Flemish painting of the 17th century. [
More ...
]
You may look at the pictures in an
online catalogue
e.g. from
Brueghel d.Ä.
,
Cranach d.Ä.
,
Dürer
,
Anthonis van Dyck
,
Hals
,
Jordaens
,
Nickelen
,
Raffael
,
Rembrandt
,
Rubens
,
Teniers
,
Tizian
,
Veronese
,
Wouwerman
.
Two famous pictures from the gallery:

The landgraves' collection of scientific instruments owes its foundation to the continual promotion of the natural sciences by the Hessian landgraves. The five exhibition areas Astronomy, Clocks, Geodesics, Physics and Mathematics/Information Technology guides the visitor through the entire range of emerging quantifying natural sciences from the Late Renaissance to the eve of the Industrial Revolution. [
More ...
]
Jost Bürgi
(1552 – 1632) active primarily at the courts in Kassel and Prague, was a Swiss clockmaker, a maker of astronomical instruments and a mathematician. Several of his best instruments (mechanized celestial globes, clocks) are shown here.
Some authors consider Bürgi as one of the
inventors of logarithms
.